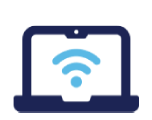 Internet
Learn how to improve your Internet speeds, test your current connection, and find a wealth of information on setting up and using your email portal.
How do I view an Email in a separate window?
Select the Email you would like to see in a full screen. Select the detach icon on the top tool bar.
Will Macintosh browsers work on the new portal?
Our portal and Email client is developed to operate on IE/Firefox. Safari customers may therefore experience some rendering issues on the portal and may not access webmail due to the java handling of the browser. Our recommended solutions for these users are:
Recommend downloading Firefox
Set up MAC Mail for Email access
How do I mark an Email message as SPAM?
Highlight it and click Junk on the toolbar. The Email is moved to your Junk folder and the spam-training filter is taught that the mail is junk.
Can I only use Webmail with the new Email?
No! You can use webmail or any email program. Our email settings did not change. Follow the set up instructions and you can use Outlook, Outlook Express, Vista Mail or any other Email software you would like.
How do you single space when composing an Email?
Pressing enter on your keyboard.
Internet Technical Support