Carbon Monoxide Sensor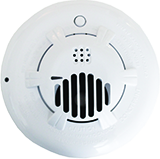 Call 800-768-1212 or visit one of our South Carolina locations to purchase!
$81.00
Description
IQ CARBON
The IQ Carbon is a monitored detector ensures your home stays safe from dangerous invisible carbon monoxide gas. Connecting directly to the IQ panel, this device is operating 24-7, whether your system is armed or not, and can inform you if any danger is present in your home.
FEATURES

- Especially useful in homes with high risk of carbon monoxide leaks from appliances such as stoves, furnaces, and more.
- Monitoring for carbon monoxide gas 24-7
- Test button to ensure device is operating correctly
- Built-in alarm sounds in addition to panel siren
- Causes panel to emit "fire" tone and alerts monitoring station of carbon monoxide
SPECIFICATIONS


- Power Source: One 3-volt CR123A Panasonic Lithium Battery (included)
- Audible Signal (temp 4 tone): 85 dBA min. in alarm (at 10ft (3m))
- Operating Current: 10 μA
- Temperature Range: 40°F (4.4°C) to 100°F (37.8°C)
- Operating Humidity Range: 15% to 95% Relative Humidity, non-condensing
- Pending Agency Listings: UL standard 2075, UL 2034 and CSA 6.19-01