ABOUT TRUALERT
Nothing's more important than family. The TruAlert personal monitor protects loved ones when you can't be there. An automatic response system for medical emergencies, TruAlert includes a portable pendant and versatile home station that alerts — and lets users speak with — responders without even picking up a phone.
TruAlert features TruVista's reliable, 24/7 monitoring to provide peace of mind while allowing those you love to maintain their independent lifestyle. To learn more, call or visit our nearest office to protect your family with TruAlert from TruVista.
IT'S EASY TO ENABLE A LIFESTYLE THAT MAKES EVERYONE HAPPY
You care about your parents, your aunts and your uncles. It's what good families do. And it just seems to come naturally after they worked so hard to give you what you needed through the years. Now it's your turn to give loved ones the tools they need to continue living the lifestyles they want. And it's easy, with the TruAlert lifestyle support system. TruAlert is a complete, technological marvel of simplicity and practicality, designed to let your loved ones live how they want, with a level of safety and security you can live with too.
GIVE THE GOOD LIFE TO THE ONES YOU LOVE
Families rely on TruAlert to help every generation live more fulfilling lifestyles, with fewer worries. You can too. All it takes is a TruAlert service, from TruVista and a little love. TruAlert will take care of the rest.
Monitoring
$29.99 per month*
$0 Upfront and $34.99 per month for monitoring
Here is a quick overview of the TruAlert capabilities that can help your loved ones live the way they want to:
Need-to-talk option: Connects members to a caring telephone friend.
Two-way, hands-free communications: Lets them answer the phone and talk from a distance, without picking up a headset.
Speed dialing: Stores up to three numbers for instant, one-touch dialing.
Future ready: Includes technology or compatibility to handle future advances, including vital statistics monitoring, home automation to control lights, appliances and entertainment, and video monitoring for visitor identification.
*Customers that do not purchase the equipment up front will pay $34.99 per month until, upon disconnect, they return all contents of the TruAlert kit clean and in working condition. An equipment fee of $199.99, plus the cost of any additional equipment, will apply for equipment not returned and/or considered to be unusable.
If the $199.99 equipment fee is paid, the equipment does not need to be returned upon disconnecting.
No contract or agreement required.
TRUALERT ACCESSORIES
This home health care signaling system was designed to support people in their home environment. In the event of an emergency, help can be summoned at the press of a button and that same message can be sent to private numbers that you have selected for notification. In the event of fire, the system can be programmed to automatically call the monitoring station or to private phones.
WHAT'S INCLUDED
TruAlert Personal Emergency Response System home station (base unit).
The TruAlert unit includes a large display that shows the system status, the time and preprogrammed medication reminders.
The Unit's rechargeable backup battery can provide up to 24 hours of operation. When AC power is restored, the backup battery is automatically recharged.
AC transformer type OH-48109AT (Input 120VAC 60 Hz / Output 12VAC 1000 mA).
1 Medical pendant, necklace, bracelet, or belt clip*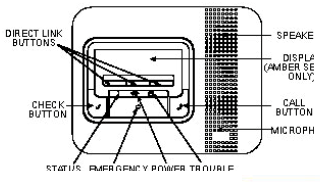 *Necklace, bracelet and belt clip are interchangeable