Android Phones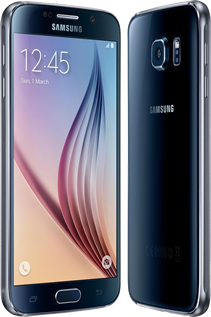 GALAXY S6
Finally, a smartphone that's more than simply beautiful. The Samsung Galaxy S6 has evolved its design—both inside and out.
Stay entertained and connected while on the go with this easy-to-hold smartphone. The Galaxy S6 combines a stunning all-metal bezel and sophisticated glass to create an incredibly slim and lightweight smartphone. It's the perfect size to take with you virtually anywhere!
Capture every moment beautifully with premium camera features you'll never believe came from a smartphone. Easily shoot 16MP rear-facing and 5MP front-facing photos with just the double tap of the home button. The wide-angle lens on the front-facing camera is perfect for taking epic selfies! Plus, with auto High Dynamic Range (HDR) you can capture clear shots in almost any light
GALAXY NOTE 5
Elevate your productivity with the reimagined Samsung Galaxy Note5, featuring the S Pen you'll only find with a Galaxy Note. The Galaxy Note5 lets you get things done with the reactive and precise S Pen and become immersed with the 5.7" Quad HD Super AMOLED display. Open two apps side by side with Multi Window and share files across your devices with SideSync. The built-in, advanced S Pen helps you do things precisely. Jot down a quick note or phone number, even without waking up the Galaxy Note5.
THE GALAXY S6 ACTIVE
Built for an active lifestyle, the Galaxy S6 active is dustproof, shock- and water-resistant, and is engineered to withstand virtually anything that everyday life sends your way. The rugged design comes equipped with an IP68 rating and certified to meet a series of demanding military standard specifications.
TruVista is your local AT&T Authorized Retails with 6 locations in South Carolina!
*Some offers require a two-year agreement. Not available in all Georgia markets. Government fees and taxes not includeed. Some restrictions may apply. Please call for additional details. All marks contained herein are the property of their respective owners.